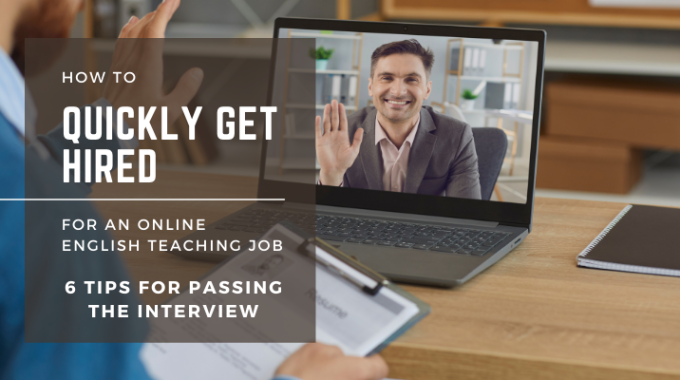 How to Quickly Get Hired for an Online English Teaching Job (Part 2) – 6 Tips for Passing the Interview
Last week, we shared "6 Tips for Getting an Interview" for an online English teaching job, so this week, we're here to talk about how to pass the interview!
Here are 6 tips to help you get hired with an online English teaching company:
1. Don't forget to SMILE and be enthusiastic during the interview.
You don't want to seem like a boring, sad person during an interview for an online teaching job. Remember, you'll be teaching students and you want to be as engaging as possible.
Show your enthusiasm through a big smile, changes in the tone of your voice and hand gestures. Just don't overdo it to the point where it's distracting.
Also, be confident! If you don't feel confident, fake it. (The interviewer will never know how you were truly feeling inside.)
2. Make sure your environment looks ORGANIZED and PRESENTABLE.
With LatinHire, you only need a white backdrop and good lighting for classes, but many other companies require props or pretty backgrounds, so make sure you make your environment as close to what the company wants as possible.
3. Make sure you look PROFESSIONAL.
The part of you that shows up on camera must be neat and tidy because that's what your interviewer and your students will see. Wear an appropriate shirt, comb your hair and clean your face. Take a good look at yourself in the mirror before attending the interview.
4. Get familiar with ANNOTATIONS on the platform you'll be teaching on.
Many companies will let you play around with their teaching platform before you do the interview, so make sure you spend some time familiarizing yourself with it.
Other companies, like LatinHire, use Zoom for classes, so download Zoom beforehand and learn how to use its annotations. Check out this article by LatinHire for how to optimize Zoom annotations!
5. Watch Youtube videos of other online English teachers conducting their classes and LEARN from them.
If you're new to online teaching, watching Youtube videos of experienced teachers can give you ideas about what to wear, how to organize your surroundings, how to behave and how to annotate the teaching slides.
Even if you have online teaching experience, it's always a good idea to keep expanding your teaching strategies. Think of this as part of your professional development!
6. RECORD yourself teaching and watch it.
It can be very cringey to watch a video of yourself teaching, but trust me, it's one of the best ways to improve your teaching strategies. What you see is exactly what your students will see, so if you're not satisfied with how you're teaching, look for areas of improvement and work on those. (Zoom allows you to record, or you can just use your phone camera.)
Hopefully these tips will help you land your next online teaching job!
If you found this article helpful, please share it with your friends. Let us know in the comments below what other tips you have for finding an online English teaching job.
LatinHire is currently hiring a lot of online English teachers for Latino students (adults and children). If you are interested in joining LatinHire's teaching team, click here to apply.