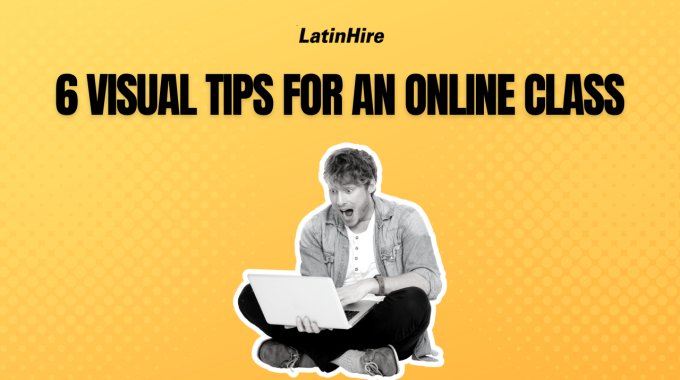 6 Visual Tips for an Online Class
A student's experience in an online class depends not only on the teaching material and what teachers say but also what they see through the camera. If you teach with your webcam on, you should give your students the best visual experience possible.
Here are six tips to consider if you're an online teacher:
Attire/Appearance Tips
Tip #1: Wear a semi-casual top.
Generally speaking, any shirt you would wear to teach in a school will be okay for an online class. You do not want to be with a top that is too casual, such as a tank top, nor too professional like a suit. A clean polo or dress shirt for men and a blouse or collared shirt for women will do. Check your shirt for stains and wrinkles and make sure you get rid of those before your class.
The great thing about online teaching is you get to wear whatever you want underneath. Just be careful if you decide to get up in the middle of class to grab something. Turn off your webcam if you don't want your students to see what you have below!
Tip #2: Make sure your hair is combed and neat.
You do not want to look like you just rolled out of bed. Give your hair a comb through and make sure it looks like how you'd like to look in a physical classroom. If you have long hair, it may be a good idea to tie it back so you don't have hair falling in your face. That'll also shine more light on your face so your students can see you clearer.
Tip #3: Make sure your face is clean and presentable.
Even if you wake up just a few minutes before class, give your face a quick wash so it's not oily from the previous night. If you want to put on some makeup, that's up to you. The webcam tends to not show our facial features as much, so a bit of makeup may help. Just make sure your face is what you want all your students to see on their screen, especially if the class is being recorded!
Teaching Environment Tips
Tip #4: Have a clear backdrop that isn't distracting.
What you have behind you during an online class is almost as important as what you have on you. It is recommended to use a white background or any other solid-colored background. If you need to use decorations, make sure they are organized and not distracting to your students during class.
If you have some posters or objects that you do not want your students to see, please clear them away from the webcam area! If you teach online classes on Zoom, you may be able to use one of the filter backgrounds if your company/school allows, but be aware that it sometimes glitches and will still show pieces of what you have behind you.
Tip #5: Light up the room or teaching area.
Students do not want to see you in the dark, so make sure your teaching area has good lighting. It's best to put a light source in front of you so your face can clearly be seen. You can use a standing lamp or a ceiling light. Do not put the light behind you, because your students will see a blinding light on the screen and it'll also make your face look very dark. A light source from behind will also show a light reflection on your computer screen, which may distract you during your class.
Tip #6: Have a good quality webcam.
If the webcam that comes with your laptop is not good quality and you look all grainy on camera, it's best to buy an external webcam. You can find some fairly cheap ones on Amazon for $20 or better ones at $100. Students will have a much better learning experience when they can see their teachers clearly.
We hope these tips are helpful for your online classes! Are there any other visual tips you would like to share? Put them in the comments below!