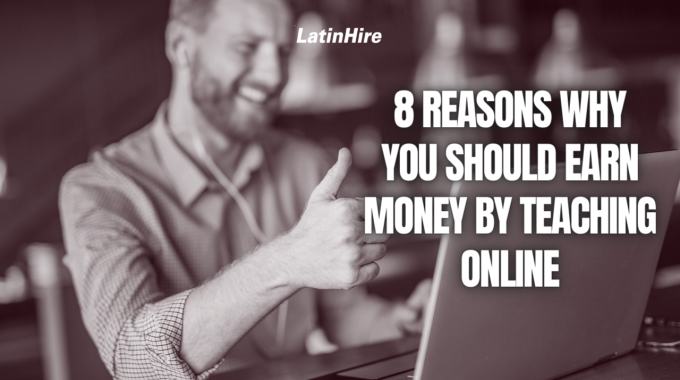 8 Reasons Why You Should Earn Money by Teaching Online
With the rise of the internet and advancements in technology, teaching online has become a popular way to earn a living. Whether you're a full-time teacher or someone who's passionate about a particular subject, teaching online can be a great way to share your knowledge with a wider audience and earn some extra income.
In this article, we'll discuss eight reasons why you should consider teaching online!
1) Flexibility
One of the biggest advantages of teaching online is the flexibility it provides. Unlike traditional teaching, you can work from anywhere in the world as long as you have a stable internet connection.
You can even set your own schedule and work as much or as little as you want. This makes it an ideal job for those who want to work part-time, or those who have other commitments such as a family or another job.
2) Reach a wider audience
Another advantage of teaching online is that you can reach a wider audience. You're not limited to just teaching in your local area, but you can teach students from all over the world.
This can be especially beneficial if you're teaching a niche subject that may not have a large local market. By teaching online, you can connect with students who are passionate about your subject no matter where they are.
3) More earning potential
Teaching online also has the potential to earn you more money than traditional teaching. This is because you're not limited to just teaching a certain number of students in a classroom.
You can teach as many students as you want online, and you can also charge a higher rate for your services if you have a particular expertise.
4) Develop new skills
Teaching online can also help you develop new skills. For example, you may need to learn how to create and manage an online course, or how to use different teaching platforms.
These skills can be valuable in other areas of your life and career, and can also make you more marketable if you're looking for other job opportunities.
5) Make a difference
Teaching online can be a great way to make a difference in someone's life. By sharing your knowledge and expertise, you can help students achieve their goals and improve their lives.
This can be incredibly rewarding and fulfilling, and can make teaching online a very worthwhile career choice.
6) Low start-up costs
Starting an online teaching business is relatively inexpensive compared to traditional businesses. You don't need to rent or purchase a physical space, and you can teach using free or low-cost online tools.
In fact, all you really need to start teaching online is a computer, webcam, headset with microphone and good internet connection.
7) Learn from your students
When you teach online, you get to interact with students from different backgrounds, cultures, and experiences. This can be a great opportunity to learn from your students and gain new perspectives.
One of the best perks of teaching is that you're always learning. You'll discover many new things as you plan your lessons and interact with your students.
8) Improve your communication skills
Teaching online requires effective communication skills, both written and verbal. By teaching online, you can improve your communication skills, which can benefit you in other areas of your life and career.
The more you communicate with students on a regular basis, the better you'll be at communicating with others in general.
We hope this article has inspired you to start making some money by teaching online! What would you like to teach online? Share your ideas with us in the comments below!