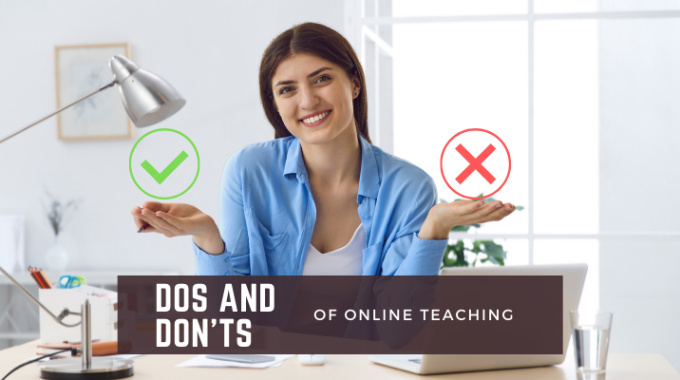 5 DOs and 5 DON'Ts of Online English Teaching
Being an online English teacher is a fun and rewarding job, but there are a few things you should be aware of to better connect with your students, protect your health and avoid burnout.
Check out these five DOs and five DON'Ts of online English teaching!
DO:
1) Use your students' names often.
The best way to connect with students and to keep their attention is to use their names often. It makes them feel important and respected.
2) Show your personality.
Don't be afraid to make your classes unique through your personality. If you have a good sense of humor, use it!
3) Stay hydrated.
Although you shouldn't be doing all the talking in an online class, you'll still be doing a fair amount of it. Remember to drink water between classes to prevent dehydration and a sore throat!
4) Keep learning and improving your teaching strategies.
If your company offers optional training, do them. Even if you're already a great teacher, there's always room for improvement! Reading teaching blogs or watching Youtube videos from other teachers can also be helpful.
5) Enjoy and have fun!
Don't forget that a teaching job is meant to be fun. If you're having fun, your students will certainly pick up on that and be more likely to have fun in your class.
DON'T:
1) Turn on your mic and video before your first student enters your class.
If you work for an online teaching company, you are likely recorded as soon as you open the classroom. To avoid being recorded doing or saying something embarrassing, turn off both the microphone and video while you wait for your students to enter the classroom.
2) Interrupt your students if you can help it.
Sometimes it may be tempting to jump in and correct your students right away every time they make a mistake. However, this can disrupt their train of thought. It's better to make note of their mistakes and make corrections after they finish giving their answer.
3) Sit for too long.
Sitting for hours on end is detrimental to your physical and mental health. Take a walk around the house or do stretches between classes to get your blood flowing. It's also a good idea to get a standing desk.
4) Schedule too many consecutive classes.
As fun as classes can be, you will experience burnout if you teach for too many hours consecutively. If you can schedule your own teaching hours, try to schedule a break every two hours.
5) Beat yourself up if not every class is perfect.
Teachers can often be perfectionists and want every class to go just as planned, but in reality, classes hardly ever go exactly as planned. If a class didn't go as well as you wanted it to, don't take it personally. Take note and learn from that experience to make your next class better!
What other dos and don'ts of the online English teaching profession do you have to add? Share them in the comments below!
LatinHire is currently hiring a lot of online English teachers for Latino students (adults and children). If you are interested in joining LatinHire's teaching team, click here to apply.