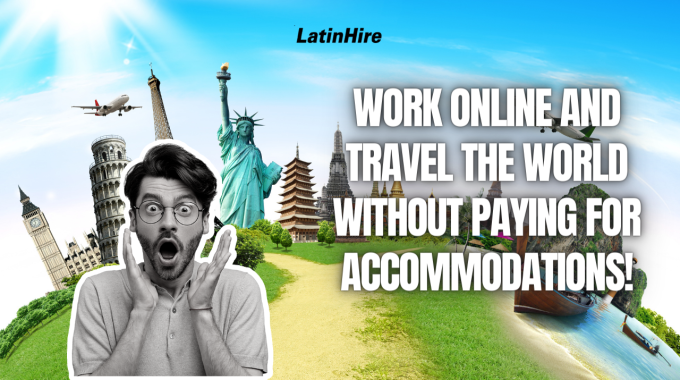 Work online and travel the world WITHOUT paying for accommodations!
Do you work from home but long to explore the world instead? Why not do both at the same time? With a remote job, you can literally take your work with you wherever you go, so why not take it on a journey around the globe?
But it's so expensive to travel, you may say. Hotel costs add up and backpacker hostels aren't ideal for having a quiet work environment and stable internet.
The perfect solution for you may be to travel through housesitting! It's an exchange of services where you take care of someone's home and pet(s) while they're away for a period of time and in exchange you can live in their house for free.
Here are seven reasons why remote workers should consider housesitting as a way to travel the world!
1) Free rent and utilities.
People tend to spend around 30-50% of their income on rent. Imagine saving that and putting it towards your financial goals. By housesitting, you don't only save on rent, but you also save on water and electricity bills, internet bills, and purchasing general household items. If you're housesitting in areas that have a high demand for housesitters or you're flexible to move around, you can literally go a whole year without paying for accommodations!
2) See the world.
There are housesitting opportunities in almost every country around the world. Anybody that has pets and needs to be away for a while would be in need of housesitters. TrustedHousesitters alone has housesits in over 130 countries and that's just one platform out of many. As you look for housesitting gigs, you may come across some locations that you never thought of visiting, but now have a reason to go check it out.
3) Spend time with cute animals.
The number one priority in most housesitting gigs is taking care of the pets. Sometimes traveling and living in a place alone can get lonely, so having the companionship of some adorable animals could be a big boost to your mental health! Many pets are used to being around housesitters so they're very warm and cuddly.
4) Live like a local and immerse yourself in the local culture.
Housesits can last from days to months, so the longer you stay in a place, the more opportunities you have to see what life is really like in that location. Longer housesits allow you to really appreciate the area and also makes you feel less exhausted from always being on the go to the next destination. You'll have enough time to experience local events, local restaurants and less touristic places.
5) Make friends.
You may become long-term friends with some of your housesitting hosts as you'll be in constant communication with them throughout the housesit. Many hosts would like you to arrive a few days in advance to get acquainted with the place and their pets. They may take you around their town, introduce you to their friends and help you get settled. If you have a long housesit, you may want to get out into town and meet new people. This is a great way to expand your network and meet friends from all over the world.
6) Stay in stunning locations.
Housesitting may take you places you never imagined you would visit and allow you to stay in homes you thought you could never afford. From living in the jungle to beach towns to yacht homes, it's all possible! Seeing what housesitting opportunities are available takes you off the tourist path and allows you to discover some really unique places and living areas.
7) Live comfortably while traveling.
It can get tiring staying in hotels, hostels or Airbnbs as they are designed for short-term stays and there's always some noise pollution in places that are meant to be for tourists. While housesitting, you get a nice home to yourself and have the peace and quiet that comes with it too. You'll have your private bathroom, kitchen and the rest of the amenities that come with the house and neighborhood.
Would you like to try housesitting someday? Stay tuned for a future article on how to land your first housesit!