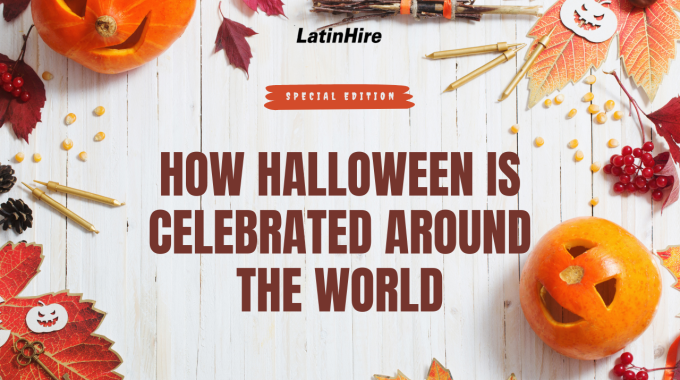 How Halloween is Celebrated Around the World
Happy Halloween! On October 31st, Halloween is celebrated across the world in many unique ways. This week, we present to you how different countries partake in Halloween celebrations around the globe!
United States/Canada
On Halloween Day, children and adults dress up in costumes and carve pumpkins into jack-o'-lanterns. Children often wear their costumes to school and then go trick-or-treating at night, bringing home a large harvest of candy! Some common costumes are ghosts, pirates, princesses or cinematic characters. Adults would attend Halloween parties at night and it's an overall fun, light-hearted holiday.
Mexico
In Mexico, Day of the Dead (Dia de los Muertos) begins on October 31st and ends on November 2nd. This celebration is to honor the dead, who it is believed, return to their earthly homes on Halloween. Families construct altars filled with food, flowers and drinks to welcome the deceased and some even leave wash basins and towels so that the spirits can wash up before feasting. During Day of the Dead, relatives visit gravesites, tidy them up and decorate them with flowers. Face-painting in a skeleton style is also a very common tradition during this celebration.
Ireland
Ireland is where Halloween originated and much of the traditions are similar to what is celebrated in the US today. Children dress up in costumes, go trick-or-treating and carve jack-o'-lanterns. Many parties take place on Halloween night where games like "bobbing for apples" and "snap-apple" are played. "Bobbing for apples" is a game where participants use their mouths to catch floating apples in a basin and in "snap-apple", players try to bite an apple hanging on a string.
Japan
The Kawasaki Halloween parade is one of the biggest events in Japan and generally has an adult overtone. There is no trick-or-treating involved, but plenty of cosplay and parties. This event features 5,000 costumes from around the world marching in a 1.5km parade while a hundred thousand spectators watch from the sidelines. You can't just put on any old costume to attend. Participants must apply months in advance and have outstanding costumes in order to march in this parade.
Italy
Italy celebrates a modern version of Halloween in combination with older, traditional "Ognissanti" festivities. "Ognissanti" translates to "All Saint's Day" and takes place on November 1 and 2. Tradition says that during Ognissant, souls of the dead come back to visit their living relatives, so Italians often decorate cemeteries and leave food out for the visiting spirits. In some parts of Italy, parents even leave gifts for their children like on Christmas, on behalf of their dead relatives.
Guatemala
In Guatemala, Day of the Dead is also observed, but with a giant kite festival. To honor their dead, Guatemalans build giant, bright kites and fly them in the cemeteries. This ancient Mayan custom goes back 3,000 year and was believed to be a way to communicate with the dead. Today, the kites are used as a symbol of peace and for spreading love and compassion.
Philippines
In the Philippines, Halloween celebrations go on for a week, but with a more religious overtone. There is no trick-or-treating or pumpkin carving, rather flowers are laid out with candles and many prayers are said. Families unite during this time of year to visit cemeteries and to remember their loved ones who have passed away. At night, parties are held with karaoke and vendor stands as people enjoy time with their ancestors.
Do you celebrate Halloween? Share with us in the comments below how you celebrate this holiday!