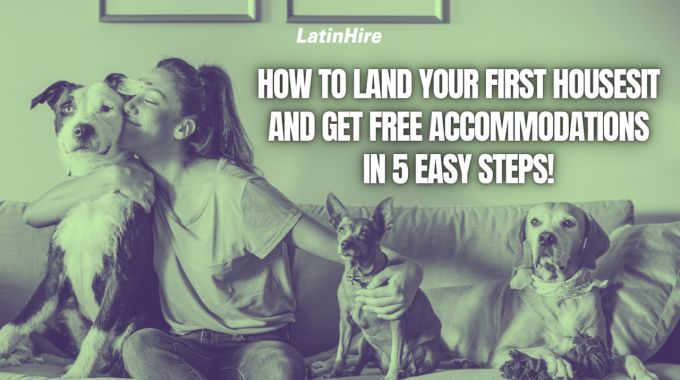 How to Land Your First Housesit and Get Free Accommodations in 5 Easy Steps!
If you love animals, traveling and saving money, housesitting is an amazing way to see the world in the company of cute pets while getting free accommodations! It's a relatively new phenomenon where travelers and digital nomads take care of other people's homes and pets in exchange for a free stay in those homes.
Housesitting provides pet owners with peace of mind while they're on vacation and travelers and digital nomads can save a lot of money on rent and hotel costs. If you work online, housesitting can be a great way to see the world while cutting down on living expenses! Click here to read our previous article on the benefits of housesitting.
If you're interested in becoming a housesitter, but you're not sure how to get started, don't worry, we've got you covered! This article will teach you step-by-step how to land your first housesit.
Step #1: Set up a profile on a housesitting website.
There are various housesitting websites available to find housesits around the world. Some websites are country-specific, but others are international. Three of the most popular international sites are TrustedHousesitters, Nomador and Mind My House. These sites require a yearly membership fee between $20-130 USD – a small price to pay for a year of free rent!
As you're setting up your housesitting profile, treat it like your online resume. Make sure it's eye-catching and stands out from the crowd. You want to show your personality and especially highlight your experiences with pets. Post photos of you with pets (could be yours or other people's) and share stories about your experiences with animals. Emphasize your skills that are valued in a housesitter, such as responsibility, adaptability and cleanliness.
Step #2: Collect references and testimonials.
If you've taken care of a friend or family member's pet before, ask them to write you a reference on your profile. The references should be specific about what your responsibilities were and how satisfied the owners were with your care. With more details, pet owners looking for a housesitter will have a better idea about your ability to take care of their own homes and pets.
Even if you have not taken care of pets before, you can ask friends and family to write you "character references", which highlights your personality and ability to take care of other people's pets and homes. With no prior petcare experience, you can start off with easier housesits such as a house with a cat or rabbit. It's not advised for you to care for another person's dog alone if you have never had experience with dogs.
Step #3: Start looking for housesits and apply to as many as you can.
New housesits come up every day, so it's a good idea to frequently check your housesitting platform for new opportunities. Play the numbers game and apply to as many as you can (if you can actually do the housesit, that is). It's a good idea to start with housesits that are nearby, so you can accept last minute requests and also don't have to arrange travel plans.
Read each housesit's description thoroughly. Owners usually put quite a lot of detail in their posts to make sure housesitters are aware of all the responsibilities that come along with caring for their home and pets. To show that you're the perfect candidate, address the information in the owners' posts when you reach out to them to let them know that you can attend to all those requirements.
Step #4: Treat it like a job application.
Although housesitting applications aren't as formal as job applications, in many aspects you should treat them the same. Be meticulous with your spelling and grammar, it shows your attention to detail. Customize each application and make sure you focus on their pets! Address their pets by name and emphasize that they'll be your number one priority.
Don't be disheartened if you don't hear back or your application gets rejected. It may take a while to land your first housesit. Just remember to add more details of your pet experiences and collect references on your profile to increase your chances of getting that first gig!
Step #5: Ask the owners to set up a call.
Reach out to the hosts by sending a friendly message and share your interest in housesitting for them. In that message, always ask to set up a call so they can tell you more about their home and pets' needs. If they don't respond to your message within a few days, feel free to follow up with a polite reminder.
When you make the call, reiterate why you think you'd make a great housesitter and ask the owners if they have any questions or concerns about you. You should also prepare questions to ask them, just like you would in a job interview. Lastly, feel free to share your social media profiles (if you're comfortable with that) so the pet owners can get to know you better!
That's it! If you do all these steps well, you'll be able to land your first housesit in no time. Have you ever tried housesitting before? Share your experiences with us in the comments below!