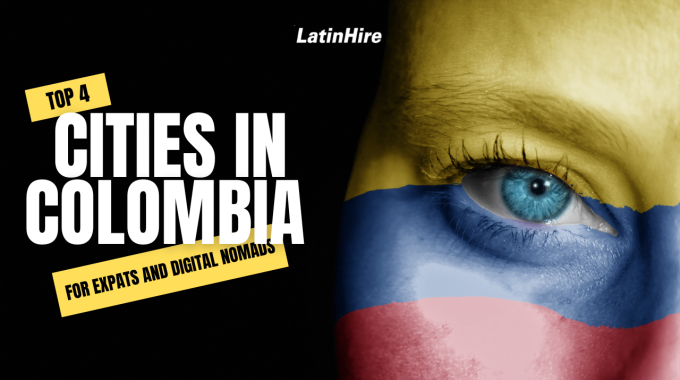 Top 4 Cities in Colombia for Expats and Digital Nomads
Do you work online as an English teacher, writing tutor or have any other type of remote job? Then you should consider relocating to Colombia!
"But isn't Colombia dangerous with all that drug-trafficking and crime??", you may ask.
While Colombia used to be a dangerous country, many of its neighborhoods have become quite safe over the years.
Now it's considered a top-choice country in South America for expats and digital nomads due to its good climate, cheap costs of living and unlimited array of interesting activities and natural parks.
Here are four cities in Colombia you should consider as an expat or digital nomad! (Or even just as a visitor!)
1. Medellín
Medellin is a dream home for many expats and is deemed one of the top South American cities for foreigners. What once was a dangerous city filled with crime has been transformed over the past few decades into an artistic, warm and friendly place. You'll see beautiful art all over the city with a mix of blooming flowers in every corner. The weather is eternal spring, so there is no need for anything more than a light jacket. Air conditioning and heating are not necessary, which can save you a ton on electricity bills!
The second biggest airport in Colombia is only 45 minutes away and Medellin is the only city with a metro system along with cable cars which makes public transportation extremely convenient. The mountainous views with a light touch of sunshine allows expats to enjoy long walks and lead an active outdoor lifestyle. Every Sunday, the city closes down large sections of roads to allow pedestrians and bikers to have full access to the streets!
In Medellin, there are many international restaurants, fresh local markets and a bustling nightlife. If you want a good mix of weather, location, transportation and social life, then Medellin may be the perfect city for you! A couple can live well in Medellin for $1400-1600 USD/month.
2. Cartagena
For expats who love hot weather and cannot get away from the beach, Cartagena is a great option to consider. This coastal city has beach weather all-year round with high humidity and temperatures in the upper 80 degrees F (around 30 degrees C). Sandals, shorts and dresses tend to be the normal wear in this part of the country.
As one of the most touristic destinations in Colombia, Cartagena offers a rich combination of intense history, beautiful beaches, shopping opportunities and excellent cuisines. There are various upscale boutiques, local craft shops and sidewalk vendors for every type of tourist and expat. The Old Town of Cartagena is a Unesco World Heritage Site and its center is a fortress from the colonial period. The mix of history and romance in this city makes it an attractive option for foreigners.
As the crown jewel of Colombian tourism, Cartagena is more expensive than other Colombian cities, but the costs of living are still significantly less than in the United States. Many people find the higher prices worth it to live in a place with a mix of city and beach life. There is also less traffic and pollution in Cartagena compared to Colombia's other large cities. A couple can live in Cartagena on $1600-2000 USD/month.
3. Bucaramanga
Bucaramanga is one of Colombia's oldest cities and is considered one of the most beautiful. As a city of parks, you will see gorgeous greenery all around, which makes it an ideal place to raise dogs and do outdoor activities. Bucaramanga publicly displays a love for the visual arts with exhibitions and art workshops being held throughout the year. You can also enjoy the orchestra, the ballet and sense an affection for literature in this city.
At the moment, there aren't too many expats in Bucaramanga, so you'll get a more local, small town vibe. This is perfect if you're working on your Spanish or want to immerse yourself in Colombian culture. Bucaramanga offers a safe and comfortable living environment as the city has excellent infrastructure. The tap water is drinkable, the electricity is reliable and internet service is fast. Public transportation is convenient and leading edge health care is available at affordable costs.
The 10 universities in the city bring a youthful presence and temperatures are quite pleasant all year round, from 68-80 degrees F (20-27 degrees Celsius). Be sure to check out the local markets for fresh fruits and veggies, along with handcrafts, meats and seafood! A couple can live comfortably on just $1000-1500USD per month!
4. Cali
Cali is the "salsa center" of Colombia with an energetic atmosphere and a wild nightlife. There is a large expat population here, so if you want an exciting life filled with lots of social activities, then Cali might be the right city for you! The options of bars and clubs are limitless, and don't worry if you don't know how to dance yet, there are many places where you can take salsa classes and then show off your new skills on a night out!
Cali contains one of the country's fastest growing economies, as it observed the development of Bogota and Medellin, so this city was able to learn a lot from them while perfecting the process. The transportation system is great and there are a lot of attractions and things to do, like hiking, museums, zoos and more.
If you enjoy sports and the outdoors, Cali is considered the sports capital of Colombia. People practice football, basketball, volleyball, cycling, running, golf, swimming and many more on a regular basis. The temperature is enjoyable, ranging from 64-86 degrees F (18-30 degrees C). Costs of living are very cheap, a single person can live on just $500USD a month!
Have you visited any of these cities before? Let us know what you think of them! Which other cities in Colombia would you recommend? Share them in the comments below!