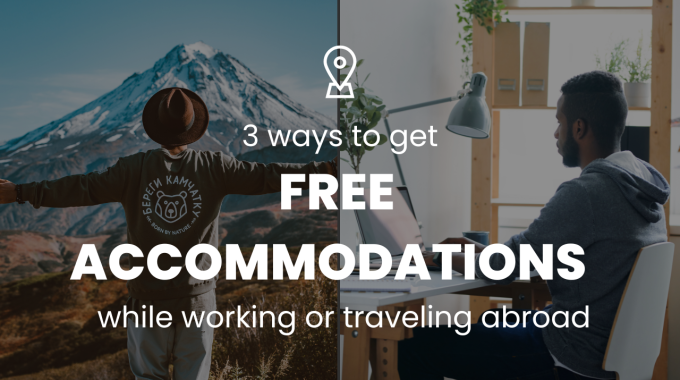 3 ways to get FREE accommodations while working or traveling abroad
It's a general rule of thumb that you should spend no more than 30% of your gross monthly income on rent. With inflation skyrocketing around the world and rent prices creeping upwards, imagine if there was a way you could cut out partial (or full) rent expenses and instead put that money towards savings, retirement or more leisures in life!
This week, we're going to talk about three ways you can get free accommodations while working or traveling abroad!
1) If you have an online job…try housesitting!
In exchange for taking care of other people's homes and pets while they're on vacation, you'll get a free place to stay. This is the perfect exchange if you enjoy hanging out with animals as you'll save the money on rent and also have the company of some cute furbabies.
There are many websites that offer house-sitting opportunities with an annual fee ranging from $20-250 USD. One of the most reputable sites is TrustedHousesitters. If you get plenty of house-sitting gigs throughout the year, you'll save up a ton of money on rent!
So how does house-sitting work? Basically you apply to different opportunities on the platforms and if the owners think you are a good fit, they'll schedule a call to talk about your experiences and what you'll be expected to do around the house. Make sure your profile is attractive and has an emphasis on your love for animals!
(Stay tuned for a future article with tips on getting house-sitting gigs!)
2) If you are traveling…try couchsurfing!
The usual accommodations that people use while traveling are hotels, hostels or Airbnbs, and while these options are great, the costs can add up. They also fail to give you a truly authentic, local experience during your travels. With couchsurfing.com, you can meet and stay with locals for free while immersing yourself in the local culture and making long-lasting friendships.
Isn't this taking advantage of others you may ask? Well, couchsurfing is a community of travelers who seek to help each other out. If you decide to couchsurf, you can share some of your talents with your hosts or treat them to a meal or two. You can also host other travelers in your own city or show them around your favorite places in town.
As with any online social platforms, make sure safety is your number one priority. Before you decide to stay with a host, get to know them better, ask for their social media accounts and read all of their prior references from travelers who stayed with them before.
3) Find a job that gives you free accommodations.
If you don't have an online job and want to earn some money while having free accommodations, you can check out the following range of options for jobs abroad!
– Teaching in international schools: Usually these schools require a teaching license, but some will accept ESL teachers with just a TEFL certificate. Many international schools, especially in Asia and the Middle East, offer free housing to their teachers.
– Work on a farm: There are many farm work opportunities around the world that provide a place for you to stay. Search "farm jobs abroad" on Google, and you'll find plenty of websites with opportunities in different countries.
– Cruise ship crew member: If you don't get seasick easily and enjoy keeping busy, then a job on a cruise ship may be perfect for you. Take a look at allcruisejobs.com to see what skills and talents you can contribute on a cruise ship!
– Nanny/au pair: Do you enjoy working with children? If so, you can consider becoming an au pair and live with a family while taking care of their kids. Check out aupair.com to find opportunities across 200+ countries.
These are just a few of many options for jobs abroad that provide free accommodations. Doing a quick Google search will help you find many more!
Would you like to try any of these options to get free accommodations while working or traveling abroad? Let us know in the comments below!