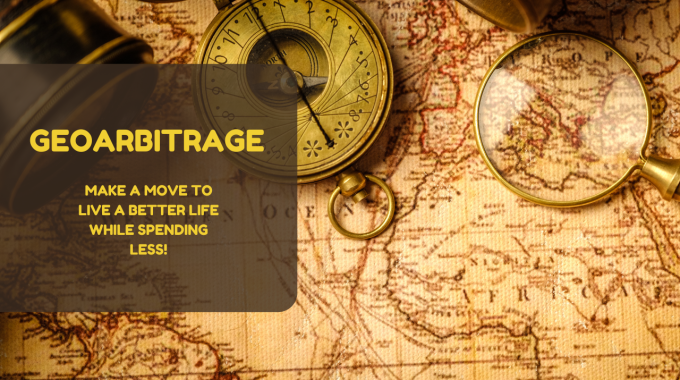 Geoarbitrage – Make a move to live a better life while spending less!
We all have struggles at times to pay our bills on time and to escape the life of living paycheck to paycheck. But imagine if your current income is worth twice its value so that you can buy twice the amount of things you can currently afford. Sounds impossible, right? Not quite!
If you earn a strong currency, like the USD or Euro, and spend it in a country with a weak currency, like in parts of South America or Asia, you can stretch your income a lot further and double or triple the value of each dollar you earn. That $50 USD of groceries you buy in the United States may only cost you $20 USD in another country. That is the power of geoarbitrage.
Geoarbitrage is a term made popular by Tim Ferriss in The 4-Hour Workweek. It means to change the location of where you live so you can take advantage of lower prices, while achieving the same or a higher standard of living. If you can maintain your income from back home or even accept a lower income but live in a cheaper country, you automatically increase your disposable income and can save more, travel more and retire early!
Are you interested in geoarbitrage so you can live your best life while being on your way to an early retirement? Take a look at the following four ways you can do just that:
1) Take your remote job abroad.
If you already work online, that's perfect. All you need is your computer and a good WiFi connection and you can work from anywhere in the world. Many countries offer a digital nomad visa that allows you to stay long term. But if you don't want to bother with applying and paying for visas and you have an American or Canadian passport, you can enter most countries directly on a visitor's visa and hop countries every couple of months when the visitor visa is up.
If you're still stuck in an office with a job that could be done remotely, try negotiating with your boss to allow you to work from home. Once you can prove to be productive and produce equal or better results working from home, you may be able to take your work to another country and take advantage of geoarbitrage.
2) Learn new skills to find a remote job.
Nowadays, it's easier than ever to earn money online. If you don't have the skills yet, you can enroll in free or cheap online courses to learn these new skills and within a few weeks or months you can start earning money online. Here are a few of many options you can consider:
Online English Teaching
Getting into the online English teaching industry is quite simple – especially if you're a native English speaker. You can take a cheap and legit TEFL course online and be eligible for the vast majority of online English teaching companies out there. Check out this article by LatinHire to learn how you can get hired quickly for an online English teaching job.
Online Tutoring/ Coaching
If you are very knowledgeable in a subject area or have strong expertise, you can become an online tutor (e.g. math, chemistry, programming, etc) or coach (e.g. business coach, life coach, etc.). There are many websites where you can offer your tutoring and coaching services online as a freelancer.
Copywriting
If you are good with words, consider becoming a copywriter. Copywriting is sales and marketing with text. Many companies look for copywriters to create content for their website, email campaigns, social media campaigns, etc. By taking some courses in copywriting and building a writing portfolio, you can potentially write for a living while living abroad!
Other ideas for online work include programming, web design, UX design, dropshipping, blogging, starting a Youtube channel, creating an online course, etc. The options are endless!
3) Rent out any properties you own.
If you own a house or apartment, you can consider renting it out and spending that money in a cheaper country. Suppose in a country like Mexico or Vietnam where you only need about $500-700USD to live comfortably, if you can rent out your property for at least that much, you'll be able to pay for all of your expenses abroad and if you can rent out your property for more, that's more monthly savings!
4) House and pet-sitting.
Want to avoid paying rent and spend some time with cute animals? If you like animals and are willing to live in a stranger's house for a few weeks up to some months, you can try house-sitting. You get to live in houses for free in exchange for taking care of the house and pets while the owners are on vacation.
Pair this up with an online job, and not only do you get to live rent-free, but you'll be making money as you do it! Once you get more positive references as a house-sitter, you can even begin charging for your services.
These are just a few ideas of how you can take advantage of geoarbitrage. Keep in mind that you don't need to make a lot of money to spend less and save more than you do back home. Even if you earn just $1000-1500 USD a month from doing online work, by living in a country where your monthly expenses are $500-800 USD, you'll still have a couple hundred dollars left over to save for retirement or use to improve the quality of your life!
Are you interested in trying geoarbitrage? Which country would you move to first?