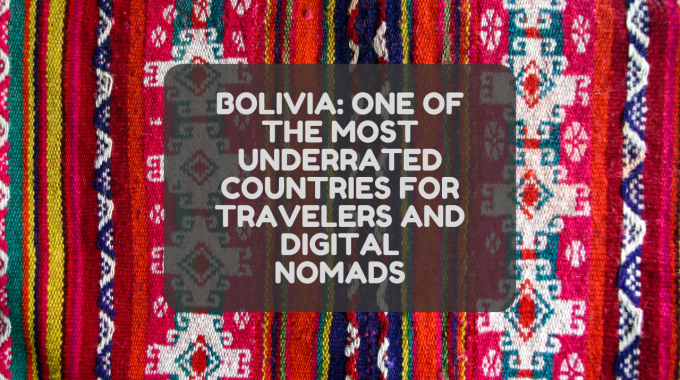 Bolivia: One of the most underrated countries for travelers and digital nomads
With Peru and Chile to the west, Argentina to the south, and Brazil to the north/east, Bolivia is often a forgotten country on travel itineraries. Although Bolivia hasn't quite earned the title of 'tourist destination' yet, it's a country that should definitely NOT be skipped over if you intend on visiting South America.
Bolivia is home to the highest capital city in the world – La Paz – with an altitude of 3,600m above sea level. This country has a fascinating cultural mix of indigenous history, Spanish influence and a growing young population that gives some of the bigger cities a modern vibe. Many sites across the country look like they're straight out of a movie and the cable car public transportation system in La Paz is absolutely mindblowing.
If you decide to take a trip to South America or are choosing your next country as a digital nomad, here are seven reasons why Bolivia should be near the top of your list:
Reason #1: Breathtaking sites.
Bolivia's natural sites are astounding and you will have countless moments of complete awe in various parts of this country. For those who love to take pictures while traveling, you'll find lots of 'Instagram worthy' spots to capture your unforgettable experience.
Here are a couple of sites you cannot miss while you're in Bolivia:
Salar de Uyuni: An 11,000 square-km area of salt flats, with sections of melted salt that show a mirror reflection effect. You will feel like you've arrived at a whole new world.
Copacabana: A quaint little town around Lake Titicaca (across Peru) that is full of charm with its mountains and cute shops. If you enjoy seafood, you'll be able to try a lot of fresh seafood here. There are various islands in Lake Titicaca that you can visit on a day trip or stay overnight, such as Isla del Sol.
Valle de la Luna: An area in La Paz that has gone through years of erosion, resulting in these pointy clay figures. The name translates to 'Valley of the Moon' as it looks like you're literally walking on the Moon.
These are just a few of the many beautiful sites that Bolivia has to offer. You should also check out Sucre, Potosi, Oruro and many more if you have the chance to visit this amazing country.
Reason #2: Low costs of living.
Bolivia is one of the poorest countries in South America and as bad as this sounds, that's a great thing for tourists and digital nomads as living costs are a bare minimum. You can comfortably live in this country for just $700USD a month. Everything from lodging to transportation to food and entertainment are extremely cheap, especially if you live like a local.
However, this doesn't mean travelers, expats and digital nomads are deprived of good living standards. In fact, most major cities have great infrastructure and excellent WiFi. You'll be able to find multicultural restaurants as well as bars, cinemas and malls, just like you would back home.
Reason #3: Rich with culture and history.
Bolivia's streets are full of color and life. 60-80% of its people are of indigenous descent – highest of any South American country. You can see traditional clothes being worn by women on the streets. These women, called "cholitas", were once marginalized in society, but after years of fighting for their rights, now they wear their traditional clothes proudly.
Bolivia was the first country to fight for independence from Spanish rule, but the last to achieve it. This country has a fascinating, yet heartbreaking history and today, there is a high sense of resiliency among the people, as their will to fight for a better future for their country is stronger than ever.
Reason #4: Convenient transportation.
Getting around the different cities in Bolivia and the country as a whole is quite convenient as buses and taxis are available at all hours in the day. The capital city of La Paz even has 10 lines of cable cars that can take you almost anywhere in the city for just $0.50USD! Some long distance buses are also available to take you almost anywhere or to neighboring countries for quite a cheap price. (Just remember to get your passport stamped when you cross the border!)
Reason #5: Welcoming locals.
Locals in Bolivia are overwhelmingly friendly and welcoming. This is not to say there are no exceptions, but generally the locals are happy to see foreigners and are willing to offer a helping hand when needed. You will quickly feel like home if you make some local friends as they'll often treat you like part of their family from the first encounter. The locals are very willing to share what they have, even if they have just a little. Bolivians certainly have some of the biggest hearts in the world.
Reason #6: Lots of outdoor activities for the adventurous.
Bolivia has many hiking trails where you can do day hikes or overnight hikes. They vary in difficulty and length, but no matter what physical shape you're in, you'll be able to conquer a few of them! The scenery is always stunning along the trails and you'll find many places to set up camp. There are even houses along the way that you can stay in if you want to be more comfortable.
If you enjoy biking, you'll definitely want to check out North Yungas Road, also known as "Death Road". It's a 60-km biking route that used to be extremely dangerous, but with improved infrastructure and road conditions, it's now fairly safe. As daunting as the name sounds, don't worry, you'll still be alive by the end of it!
Reason #7: This country has not been ruined by tourists.
As Bolivia is not well-known in the travel community, this country has not yet been flooded by tourists. Many popular tourist sites around the world have suffered from high levels of pollution, endangered wildlife, damaged natural sites, and ruined infrastructure just from the sheer number of people going in and out.
So pay Bolivia a visit before the rest of the world catches on and be one of the first to experience its raw charm. By visiting Bolivia or living there for a while, you'll be helping the local economy as well as receiving a unique and unforgettable experience.
Text translation: "Bolivia is waiting for you."
Have you been to Bolivia before? Tell us about your experience in the comments below. If you haven't been, would you like to go? (The correct answer is "yes!")