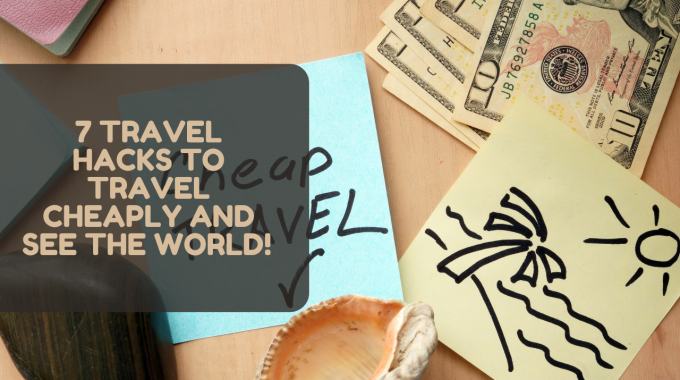 7 Travel Hacks to Travel Cheaply and See the World!
Money is the number one reason why many people don't travel, but the reality is you don't need to be rich to see the world! In fact, there are various hacks you can use to travel on a budget or even for free. All you need is some research and creativity.
With the help of the internet, traveling is cheaper and easier than ever. You can reserve flights, places to stay, restaurants and fun activities with the touch of a button. At first glance, everything may look expensive and discourage you from taking that vacation, but if you dig just a little deeper, you'll find a whole slew of money-saving strategies in the world of travel.
Keep in mind that you may be trading some comfort for these savings, but often the experience will be more authentic and makes for a better story.
Here are seven travel hacks you can experiment with to travel cheaply:
1) Be flexible with when to take your flights (if you can).It's no surprise that flight tickets and other travel expenses are more costly during peak seasons (e.g. Christmas, summer break, etc.), so if you can plan your vacation outside of these times, you'll save a lot of money (plus there'll be less tourists around).
Even the day of the week you fly can affect the price, as flights are usually more expensive on the weekends. The more flexibility you have for when to travel, the more money you'll save.
2) Check flight prices daily and book in advance.
If you check the price of the same flight over a number of days, you'll notice that there can be wide fluctuations. A good tip is to give yourself plenty of time in advance to book your flights so you can track the prices over a week or so and then buy the ticket when it gets to the lowest point again.
You can even set up a price alert on most flight purchasing websites to let you know when prices drop below a certain number. Skiplagged and Trip.com are great sites that will help you track the cheapest flights.
3) Stay with locals for FREE!
If you're traveling to a new country or city and want to live like a local rather than pass through like a tourist, try couchsurfing! Most of the time you won't actually be sleeping on a couch, as different hosts offer different types of accomodations. Some will even give you your own private room! Couchsurfers usually stay with their hosts for one night up to a week (although this can be extended longer, depending on your dynamic with the host…just don't overstay your welcome)..
Many locals (and expats as well) like to share their home with travelers as a way of cultural exchange and giving back to the travel community (as they likely have done couchsurfing themselves). The "free living" part is not even the best part of couchsurfing, but rather the experience of immersing yourself in a new place and making long lasting connections.
4) Help someone house/pet-sit in exchange for a FREE stay in their home.
If you want a longer-term stay for free, you can consider house/pet-sitting. It's very expensive to travel with pets and not many pet owners like to leave their babies in someone else's house, so the next best solution is to invite someone to live in their home and take care of their pets while they're away!
You can look for house/pet-sitting opportunities in the cities you're planning to visit to see if you can find someone who needs a sitter during the same time that you're there. If your travels are flexible, you can even plan your travels around the demands of house/pet-sitting! There are various websites that offer these gigs, such as TrustedHousesitters or Nomador.
5) Eat at local restaurants and cook your own meals.
Get recommendations from locals rather than tourists regarding where to eat. The food will be more authentic, likely more delicious, and cheaper. You can ask your Airbnb host, couchsurfing host or any other local friends to recommend you some local restaurants.
There's no need to spend a ton of money on food during a trip. In fact, if you live in an Airbnb or are couchsurfing or house-sitting, you'll likely have access to a kitchen where you can prepare your own meals and save a lot. Even if you don't have a kitchen, once in a while, you can make yourself a sandwich or a simple meal and save even more.
6) Join free walking tours or local tours.
Many major cities offer free walking tours in multiple languages so you can get to know some of the famous landmarks in the area. At the end of the tour, you have the option to tip the tour guide, but it is completely voluntary (although it's strongly recommended you tip at least a little).
If you decide to take day-tours that are farther from the city or for a specific activity, try to join local tours rather than tourist tours. One disadvantage of this is in a local tour, the tour guide probably only speaks the local language, but if you speak that language as well (or don't really care for the guide's explanations and just want to get to the destination), you're good to go.
7) Take public transportation and find out the expected prices of taxis (or take Uber).
In all countries, public transportation (e.g. buses, subways, etc.) is cheaper than a taxi ride. With Google Maps, you should be able to navigate most public transportation systems and get to your destination with no problem.
If you prefer taking taxis, avoid being ripped off by taxi drivers by finding out ahead of time how much a taxi ride should roughly cost for a certain distance. You can find out this information by asking your hosts, joining some expat groups on Facebook or just doing some digging on the internet. It is also a good idea to use Uber, Beat or other taxi service apps, which have standardized fees and are generally safer.
We hope these seven travel hacks will help you save lots of money in your future travels! If you have other tips you like to use to travel cheaply, feel free to share them in the comments below. 🙂