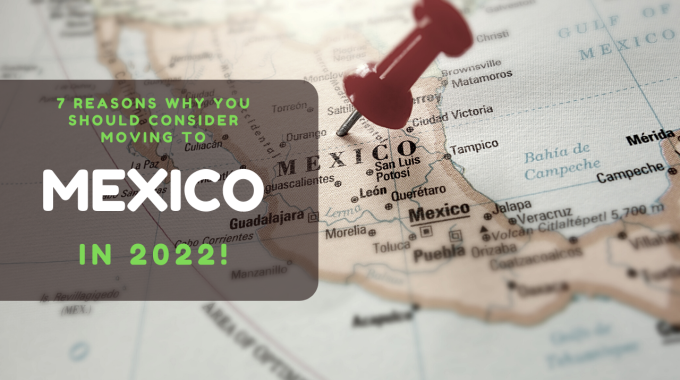 7 Reasons Why You Should Consider Moving to Mexico in 2022!
Mexico is a dream country for many and for the right reasons! With a mix of beautiful landscapes, delicious food and friendly locals, many people consider it paradise on earth. With an online job, like teaching English, you can make a good living in Mexico. At the same time, you can visit different parts of the country and immerse yourself in the local culture.
Here are seven reasons why you should consider relocating to Mexico in 2022!
1) Rich culture and history.
The first population arrived in Mexico over 13,000 years ago and the long history of this country is evident throughout its architecture, landscapes, and people. As a mosaic of various civilizations (like the Aztecs, Maya, and European colonization), Mexico's culture is unique with various local traditions and customs passed down hundreds of generations. If you enjoy learning about the culture and history of other countries, Mexico will keep you fascinated for a long time.
2) Beautiful and diverse sites.
In terms of sightseeing, Mexico has it all covered. From the beaches in Cancun to the pyramids of Teotihuacan to the Mayan ruins and many more, there are tons of sites to keep you in awe. Transportation within the country is relatively cheap, so you can take short flights or longer bus rides to different cities and enjoy all the sites that make Mexico one of the top wonders of the world.
3) Delicious food and drinks.
Everyone loves tacos and tequila, but Mexico has much more to offer in the realm of gastronomy. Topped with delicious spices and herbs, every dish will have you drooling just from the sight and smell. With a large variety of restaurants across each city, you can eat somewhere new each day and during the evenings, you can enjoy a night out near the food stands while dancing in the outdoor squares.
4) Foreigner-friendly.
Mexico welcomes 40 million international visitors each year, and many have decided to make Mexico their second home – either revisiting frequently or buying property. If you speak English, navigating Mexico is a lot easier than in many other Latin American countries. The locals are extremely warm and welcoming, so you will feel at home in no time.
5) Cheap costs of living.
Imagine paying less than half of what you pay back home for your basic necessities such as food, shelter, and transportation! Mexico has one of the lowest costs of living around the world, so just by teaching English online, you can make more than enough to live comfortably and save up for travels and other life events.
6) Great weather.
Although Mexico's weather can vary across the country because of its big land area, you will generally experience warm, tropical weather all year round. You can spend your afternoons sightseeing or chilling at the beach and enjoy a relaxing night stroll in the cool breeze. How great would it be to not have to deal with the cold or snow!
7) Learn Spanish.
Mexico is home to the most Spanish speakers around the globe. If you want to learn a new language, Spanish is a great option as it is the fourth most widely spoken language and 18 countries have it as an official language. If you can pick up Spanish, not only will it allow you to travel to so many countries, but it can also help with your career advancement!
We hope you enjoyed this article! If you already live in Mexico and would like to teach English online, LatinHire is recruiting many teachers to teach adults and children across Latin America. Click here to apply!