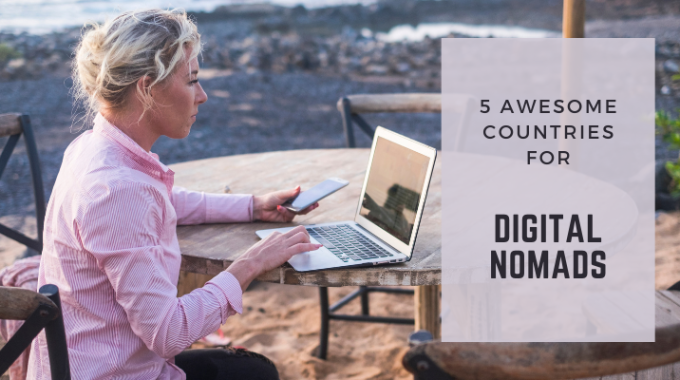 5 Awesome Countries for Digital Nomads
Do you work online or dream of one day leaving the office and working from anywhere in the world? Consider becoming a digital nomad! A digital nomad is someone who works from their laptop in any location of their choosing. Having the flexibility to work anywhere means you can cut down on living costs while tapping into your adventurous side!
Out of the 25 countries that I have been to, here are my top five countries for digital nomads considering various factors such as costs of living, safety, and fun things to do.
1. Bolivia
Bolivia is one of the most under-rated countries in the world. Many of its cities are absolutely stunning and it has one of the lowest costs of living in Latin America. The city of La Paz is a mountainous landscape with a public transport system of eleven cable cars, allowing you to marvel at the city from high above.
Cable car in La Paz, Bolivia
Other beautiful areas in Bolivia include Salar de Uyuni, with the gorgeous reflection effect of melted salt, and Copacabana, a dainty town on the coast of Lake Titicaca. You can take a short trip to either of these places by bus from La Paz.
Salar de Uyuni, Bolivia
Copacabana, Bolivia
2. Thailand
If you love chilling at the beach during the day and partying at night, Thailand is the country for you. With its pristine waters and tranquil islands, you can go snorkeling and island hopping at ease. There are tons of rooftop bars across Bangkok to enjoy a relaxing night with friends (including the rooftop bar from Hangover 2!) Thailand is a very popular destination for backpackers and solo travelers. You'll be able to find lots of expats here and feel just at home!
Phuket, Thailand
Rooftop bar from Hangover 2, Bangkok, Thailand
Thai food is very delicious and Thailand's location makes it easy to take cheap and quick flights to nearby countries in Asia, like Malaysia, Vietnam, and Cambodia.
3. México
The land of tacos and tequilas is another digital nomad destination you wouldn't want to miss! With tropical weather all year round, great costs of living, and limitless adventurous activities, Mexico has a strong reputation as one of the best travel destinations. You can visit the beaches in Cancun, cenotes in Yucatan, and pyramids of Teotihuacan. Mexico offers a great nightlife as well and there are lots of cute little cafes to do your online work in.
Cenote in Yucutan, Mexico
Mexico City
4. Vietnam
Vietnam is a tropical paradise with low costs of living, delicious cuisines and welcoming locals. You can rent an electric scooter and take yourself all over town. WiFi is widely available in most public places and there are various museums and cultural sites to learn about Vietnamese history. Visit the Cu Chi Tunnels in Ho Chi Minh City where the Vietnamese hid and lived during the war or visit the floating markets to buy some traditional goods. You can also just chill on Vietnam's many beaches if that's more to your liking.
Cai Rang Floating Market
Phu Quoc, Vietnam
5. Perú
Peru is one of the best gastronomic destinations in the world. Ceviche, arroz con mariscos and lomo saltado are just a few of its many delicious, traditional dishes. In your time off, hike the Inca trails to visit Machu Picchu or climb one of Peru's mountains to see the country's beautiful sceneries. Places to stay are clean with good WiFi and the locals are very warm and welcoming!
Machu Picchu, Cusco
Rainbow Mountain, Vinicunca
What other countries do you think are awesome for digital nomads? Share them in the comments below!
You can become a digital nomad by teaching with LatinHire! LatinHire is currently hiring a lot of online English teachers for Latino students (adults and children). If you are interested in joining LatinHire's teaching team, click here to apply.