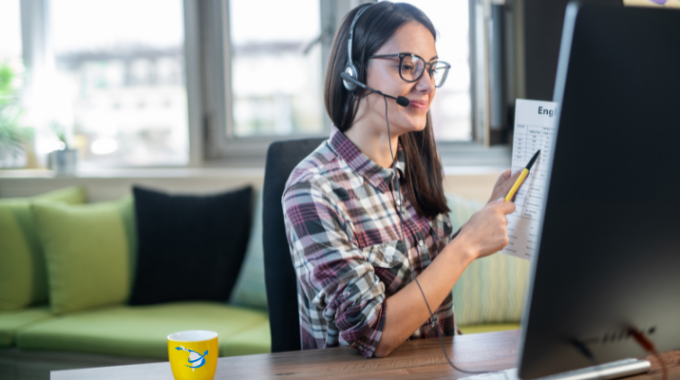 10 Reasons Why Teaching English Online is One of the Best Jobs Ever
Flexible. Comfortable. Fun. Rewarding. Financially sustainable. Secure.
These are some of the qualities that people desire the most in a job. And guess what? Online English teaching offers ALL of that.
Here are 10 reasons why teaching English online is one of the best jobs ever:
1) Work from anywhere.
With a laptop, webcam, microphone and good internet connection, you can teach English online from anywhere in the world. It's a great opportunity for digital nomads if you want to hop countries every couple of months!
2) Choose your own schedule.
You provide your own availability and choose when you want to work. Some companies, like LatinHire, even allow you to flexibly drop the shifts you can't teach and pick up extra shifts up to one hour before the shift begins.
3) Meet students from all over the world and learn about different cultures.
English is the number one language that people around the world want to learn. You can teach students from Asia, Latin America, Europe, or elsewhere and you'll learn a lot from your students as well.
4) No prepping or grading.
You spend all your time working doing what you love – teaching! There's no need to prepare your own lessons as most companies provide the teaching material and there's no homework or exams to grade after classes.
5) Wear comfy clothing!
Besides wearing a top that's appropriate for online teaching, you can wear pajama pants below and that's completely fine. Just make sure that what students see through the camera is professional.
6) No need to leave your house.
Work from the comfort of your own home and save time and money on the commute. You can grab a snack, do some chores, or even prepare a meal between classes.
7) Make a difference in the lives of others.
By helping students improve their English, you're supporting their personal growth as well as increasing their opportunities in life. English is the most common language in the business world and every country accommodates English speakers.
8) Demand is endless.
In the foreseeable future, English teaching will always be in demand. As of now, about 30% of the world's population speaks English, which means 70% of the world is a potential market.
9) You don't need a college degree.
Most English teaching companies accept a TEFL certificate without any additional degrees. A TEFL can be obtained within a few weeks and without a heavy financial investment.
10) Talking to students can make you happy and boost your mental health.
Interacting and socializing with other human beings can make you happy. Especially during a pandemic where you're isolated at home for months, having a few hours a day of human interaction through online teaching can do wonders for your mental health!
If you found this article interesting, please share it with your friends! Let us know in the comments below what are some of your favorite aspects of teaching English online.
LatinHire is currently hiring a lot of online English teachers for Latino students (adults and children). If you are interested in joining LatinHire's teaching team, click here to apply.