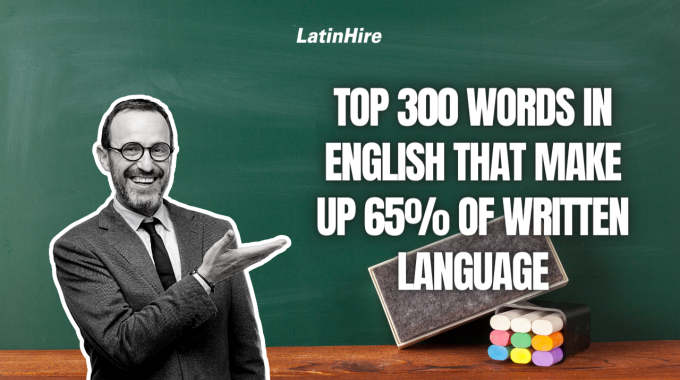 Top 300 Words in English that Make Up 65% of Written Language
Learning English can be daunting due to the sheer number of words in its vocabulary. However, if your students are learning English for regular use and communication, it's not necessary to learn every English word in existence (you certainly don't know them all). Instead, it's better to focus on the most frequent words and build from there.
The top 100 words in the English language make up 50% of all written text, and the top 300 words make up 65%. These 300 words serve as a good foundation for learning English, as they can significantly improve comprehension of a piece of text or spoken conversation. With these 300 words, your students will recognize more than half of the vocabulary.
Let's take a look at these 300 top English words broken down into categories. Some of the words are in more than one category if they fit under both descriptions!
1) Prepositions: Words that link nouns, pronouns and other words.
Here are the most common prepositions in English:
2) Nouns: Words that identify people, places or things.
Here are the most common nouns in English:
3) Verbs: Words that describe specific actions.
Here are the most common verbs in English:
4) Adjectives: Words that are used to describe nouns or pronouns.
Here are the most common adjectives in English:
5) Adverbs: Words that modify a verb, adjective or other adverb.
Here are the most common adverbs in English:
6) Pronouns: Words that can replace nouns to avoid repeating the nouns.
Here are the most common pronouns in English:
7) Conjunctions: Words that connect clauses or sentences together.
Here are the most common conjunctions in English:
8) Contractions: Shortened versions of words where a letter is replaced by an apostrophe.
Here are the most common contractions in English:
When your students know these three hundred words by heart, they are already half-way to knowing all the words in a written text or conversation! This should encourage them in their language learning journey and show them that learning English is less daunting than they think.
How useful do you think it would be to know the top 300 words in a language? Have you tried this method before? Let us know your experience in the comments below!