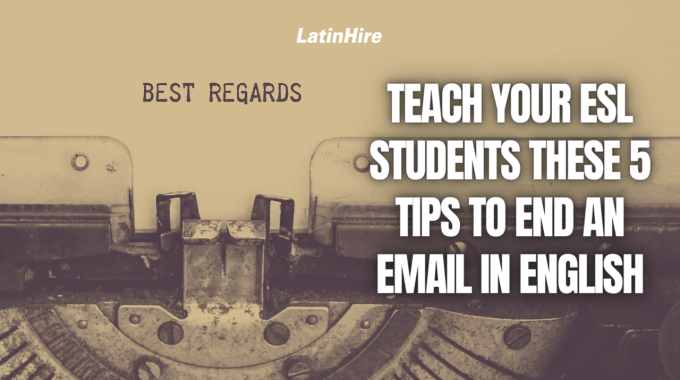 Teach your ESL students these 5 tips to end an email in English
ESL students need to learn not only how to communicate verbally in English, but also how to communicate effectively in writing. Writing an email is an essential skill for communication no matter what profession you have.
Whether you write an email for business or personal purposes, the way you end your email can leave a lasting impression on the recipient. So, it's important to teach your ESL students how to end emails in a way that reflects their intentions and leaves a positive impact on the recipient.
One of our previous articles talked about 15 greetings to start an email. Today, we will talk about five tips to end an email effectively in English.
1) Use appropriate closing words
The closing is the last sentence of your email, and it should be appropriate to the context and tone of the message. An ending impression is just as important as an initial impression. For example, if you're writing a formal email, you might use a closing like "Sincerely" or "Best regards." If you're writing an email to a close friend or family member, you might use a more casual closing like "Take care" or "Cheers."
Here are some more formal closing words:
Sincerely
Best regards
Kind regards
Warm regards
Respectfully
Yours truly
Here are some more casual closing words:
Cheers
Best
Thanks
Take care
2) Use a signature
If you're sending a professional email, it's essential to include a signature with your name, job title, and contact information. This gives the recipient a way to contact you if they need to follow up or have any questions. It also lets them know your position in your company and what matters they could discuss directly with you.
3) Proofread
Before hitting the send button, take a moment to read through your email one more time. Make sure there are no typos or grammar errors, and that the tone of the email is appropriate for the recipient. Check that you have a strong opening and closing and that the email is a good length.
4) Express appreciation
If the recipient has helped you in any way or done something for you, it's always a good idea to express your appreciation. This shows that you value their time and effort and can leave a positive impression on the recipient.
Examples of closing phrases that express appreciation:
Thank you for your time and assistance.
I appreciate your help with this matter.
Thank you in advance for taking the time to read my email.
5) Prompt a follow up
If you're expecting a response or action from the recipient, be sure to mention it in your closing. This can help ensure that your email is not overlooked or forgotten. If you require an urgent response, mention that in your closing as well. You can say something like, "It would be greatly appreciated if you could get back to me soon."
Some other examples of closings that prompt a response:
I look forward to hearing from you.
Many thanks for your prompt reply.
Please get back to me at your earliest convenience.
As you see, ending an email appropriately is just as important as starting it. Teaching your ESL students these tips for ending an email will help them a lot in their professional and personal life. What other ways do you end an email? Share them in the comments below!