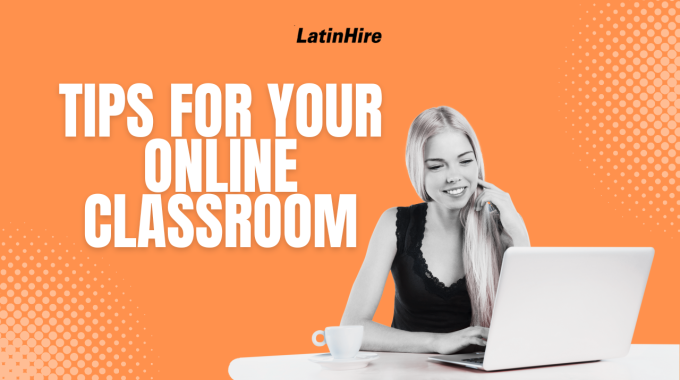 In case you've missed them: Tips for Your Online Classroom (6 Articles)
Online teaching has been around for many years, only to be accelerated by the COVID-19 pandemic. As we march towards the future, the world of online education is going to continually expand. It is beneficial for teachers of all grades and subjects to have some tips and tricks in their teaching toolbox to handle online classes (even if you're not teaching them at the moment)!
In case you've missed these articles published before the inception of LatinHire's Weekly Newsletters, take a look at them here! Many of these articles are geared towards English teachers, but if you are a teacher of other subjects, you can apply the tips just the same.
1. Optimize Zoom annotations!
Zoom took over the technological world during the pandemic as all schools moved their classes from in-person to online at some point. Teachers and students had to adapt to the new form of education and many are still using Zoom today for school or extracurricular classes. Many teachers don't realize that Zoom comes with a wide array of tools and annotations to assist their online lessons. These tools help to clarify, organize and strengthen the ideas in your lessons to support student learning.
Take a look at these two articles to learn about how to optimize Zoom tools and annotations:
5 Tips to Optimize Zoom Annotations in an Online English Class
5 Tips to Optimize Zoom Tools in an Online English Class (Part 2)
2. Better manage your online group classes!
Teaching a group class in-person comes with many classroom management difficulties, and the challenge is heightened when it's an online class. Some students may not be paying attention at all, while others hide behind their screens out of shyness. Since you can't rely on body language and spatial proximity in an online classroom, how can you make sure every student is involved and engaged during the lesson?
Here is an article to help you better manage online group classes:
6 Tips to Help You Better Manage Online Group Lessons
3. Increase student participation!
We've all experienced that awkward silence when we ask a question during class and can literally hear crickets. In an online class (especially with the webcams turned off), students tend to be even more shy to speak up. According to various educational studies, students learn best when they participate and are active in a lesson. But what if some students don't want to participate?
Check out these tips to help you increase student participation in online classes:
8 Tips to Increase Student Participation in an Online Class
4. Engage different types of learners!
Every classroom has a mix of students from various backgrounds and they all come to class with their individualized personalities and learning styles. How can you encourage the shy ones to speak up more? Get the chatterboxes to quiet down? Or help the lost sheep get back on track?
Here are some tips to help you engage different types of learners in your online classes:
How to engage different types of learners in an online English group class
5. Promote 21st century skills!
The goal of education is to prepare students for the future. Some of the most important skills needed currently in the workforce are not explicitly taught in school, so teachers have to find ways to incorporate those into their lessons. Skills such as creativity, critical thinking, communication and collaboration are vital to career and lifetime success.
Take a look at this article to discover twelve different activities to promote these four 21st century skills:
12 Activities to Promote 21st Century Skills in an English Class
We hope you found these six articles helpful! Let us know in the comments below if you'd like to see more content on a certain topic!