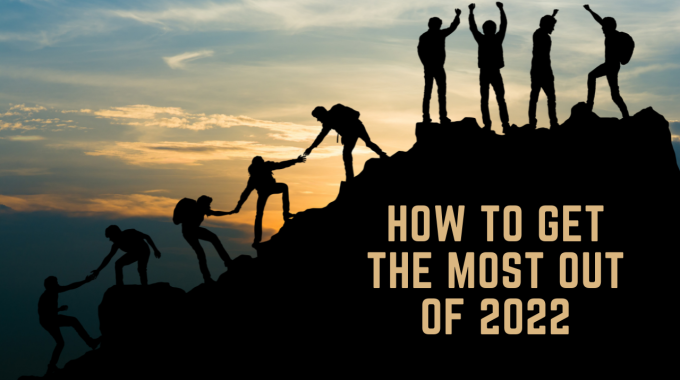 How to get the most out of 2022
Happy holidays! We hope you are staying safe and spending time with your loved ones (in person or virtually) during this holiday season. 2021 has been a strange year for many, if not all, as we were constantly in a stage of waiting but not knowing what to expect.
If you're like me, you probably feel like 2021 passed by in a blur. With the endless lockdowns, changes in travel restrictions, closing, and opening of offices/schools, one month turned into another in the blink of an eye.
Given all that you've gone through, you should be mighty proud of yourself for making it to the end of this year intact (maybe for some, just barely).
As we're rolling into 2022, it's time for a fresh start. Even though we don't know what's to come this new year, it's important to focus on areas that are within our control and to keep a good attitude in the face of change.
Here are five suggested areas you can work on to make 2022 a fantastic year. You don't have to do them all, and there is certainly much more that you can do, but the most important thing is to keep moving forward in a positive direction – one step at a time.
1) Prioritize your health.
Many of us have let our health deteriorate over the past two years as we were living under various restrictions and dealing with all sorts of stresses related to the pandemic. Maintaining a healthy body should not be hard. In fact, the formula is quite simple: Eat more fruits/veggies, eat less sugar/carbs, get some sunshine and move your body.
Have a container of cut fruits and veggies ready to go and throughout the day you can munch on them when feeling a little hungry rather than reach into your cabinet for that bag of chips or cookies. While you take a break from work or your studies, go outside for a 20-minute walk to relax your mind and exercise your body.
Your job can have a big impact on your health as well. What I've found to be a huge boost to my mental health is getting into the online English teaching industry. Just being able to have some positive human interactions while helping others achieve their language goals can instantly lift your spirits.
2) Strengthen your relationships.
Are there some relationships in your life that you want to strengthen? Perhaps you need to call your parents more often or reconnect with some old friends. We often get so caught up in the 'busy-ness' of everyday life that we neglect the one thing that makes us human – connection.
In a world where we're more "connected" than ever through technology, there is a loneliness pandemic spreading faster than COVID19. Call up some old friends or family members to catch up. Meet in person if you can (with safety precautions) and schedule your friends in your busy calendars. It's no wonder people in 'Blue Zones' – places with the most people over 100 years old – prioritize community and relationships. This is the foundation to a happy life.
3) Take control over your finances.
Oh boy, this is an area where most people do not want to delve into…but it is important. We live in an age where nothing is free. We trade our hours and our talents for money so that we can afford life's necessities and support our families. If you don't have your finances in order, you're going to have a lot of stress and we all know that stress is detrimental to your body.
The most basic rule of personal finance is to spend less than you make, so you can save up for a rainy day and perhaps invest a little for your future. Most of the time, people go into debt because they just simply don't know how much money they are spending day to day. Try using a Spending Tracker app to help you be more conscious of your spendings. Take control of your finances and tell your dollars where to go rather than asking where they went.
If you're looking into making a second stream of income, consider becoming an Online English Teacher! You can do it from anywhere as long as you have a laptop and good WiFi.
4) Learn something new.
Life is all about growing and learning. A flower that is no longer growing is on its way to death, and that's the same for us. Just like a flower needs water, sunlight and nutrients to grow, we need resources to grow as well. The great news is for the first time in human history, free education is abundant.
With access to the internet or a library, you have unlimited resources at your fingertips to learn new things for FREE. You can learn a new language (like Spanish or Portuguese), a new sport, a new instrument, how to cook better, how to code, etc. The options are endless. Learning something new keeps your brain sharp and certainly makes life more interesting.
5) Expand your comfort zone.
Growth happens outside of your comfort zone. It can be scary to take that first step, but it gets easier over time. Meeting new people, starting a new job, moving to a new country and many other life opportunities may bring you a sense of fear. However, you always have the choice to stay within your comfort bubble or to step out and experience more of what life has to offer.
One of my favorite ways to expand my comfort zone is to travel to new countries. Even better – to live and work abroad. The great news about doing this nowadays is that you can become a digital nomad just by teaching English online and have the flexibility to explore the cities you're in.
What is something that you have always wanted to try? Maybe this upcoming year is the year to make it happen.
No matter what 2021 was like for you, remember that you have more control over your life than you think. Focus and work on what's within your control, and make the most out of 2022!