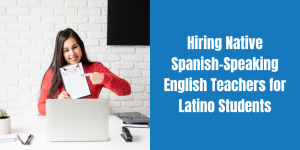 Teaching materials are provided and you choose your own work schedule. We offer huge flexibility in dropping and picking up shifts so you can plan your classes around other commitments. All you need is a solid-colored backdrop, a laptop/computer, good WiFi, a microphone and a webcam. You can choose to have as many as 48 hours of shifts a week right off the bat or as little as 16 hours a month. 
If you want to earn $$ from the comfort of your own home or on the go as a traveling digital nomad, then this might be the perfect job for you! 
Minimum Requirements:
Native Spanish speaker.
C1 or C2 Level in English.
University degree in English Teaching or related area.
One year of experience in teaching English as a foreign language.
Access to a computer with a reliable, high-speed (at least 2MB) internet connection.
Must pass a criminal background check.
Teachers must provide at least ten (10) hours of weekly availability, of which 5 must be during peak times (Mon through Fri 6pm – 1am Eastern Time Miami/New York).
Why teach with LatinHire:
Earn up to $ 1200 USD/month.

Work from anywhere in the world.

Huge flexibility in dropping and picking up shifts.

Work as little as 16 hours a month or up to 48 hours a week.

Only a solid-colored backdrop, Zoom and Adobe Reader are required. (No need for props or pretty backgrounds.)

No need to build up a student base as shifts are assigned based on teacher availability.

Students are randomly distributed. (You'll be teaching different students in each class.)

All teaching materials are provided. (No prep work necessary.)

Get paid even if students don't show up to class. (Also get paid for breaks between classes.)

Paid training and frequent bonuses.

Ongoing personal development through optional training. 

Very helpful feedback on your teaching from lead teachers.

24/7 support available if you need help during class. 

Connect with a close community of teachers on Slack. 

Many payment methods are available depending on the country you're in.
Please click on "Apply Now" if you're interested in joining our teaching team!